Join us for teacher training at Cocoon Portugal, our favorite yoga retreat center on the breathtaking Atlantic coast! May 1-24, 2023. More details here.
Beyond (além) the Tagus (tejo) river that begins in Lisbon and runs clear across the country into Spain, you'll find yourself in the Alentejo region of Portugal; unspoilt, verdant hillsides, miles of wild beaches, and a prevalent, permeating appreciation for the life lived simply, fully, and well.
Relinquish your usual sense of time at Três Marias in Vila Nova de Milfontes; clean, fresh architecture that maximizes on natural light, tasteful en-suites with white linen and wood beams, and animals roaming the surrounding ecological reserve. Operating mainly as a B&B, they can also provide dinner on request. Make optimal use of your private patio after dark, when the expanse of Alentejo's starlit sky is on full display. If you stay, send our love to Balthazar, the charming owner!
If you want to retreat fully into an independent oasis, you can stay in one of Branco de Cal's thoughtfully renovated homes. Surfers, creatives, and inquisitive travellers, this young sibling trio have gathered insights from the road and brought them home to weave into each detail of their unique accommodations. One of them also functions as a B&B where, if you're lucky, Mariana might be baking her renowned bread, which magnetizes half the town towards the courtyard of Casa do Lado on Sunday mornings for a kind of unofficial coffee and catch-up, before wandering off with a fresh loaf happily tucked underarm…
Choose Your Adventure
The lifestyle here is inescapably rooted in the land, so the apt way to acquaint yourself upon arrival is to get right into it! Here are some of our favourite escapades — ranging from mild chill to committed hike — that will allow you to soak up some broad horizons and Atlantic sea breeze replete with perfumes of rock rose, salt, and rosemary.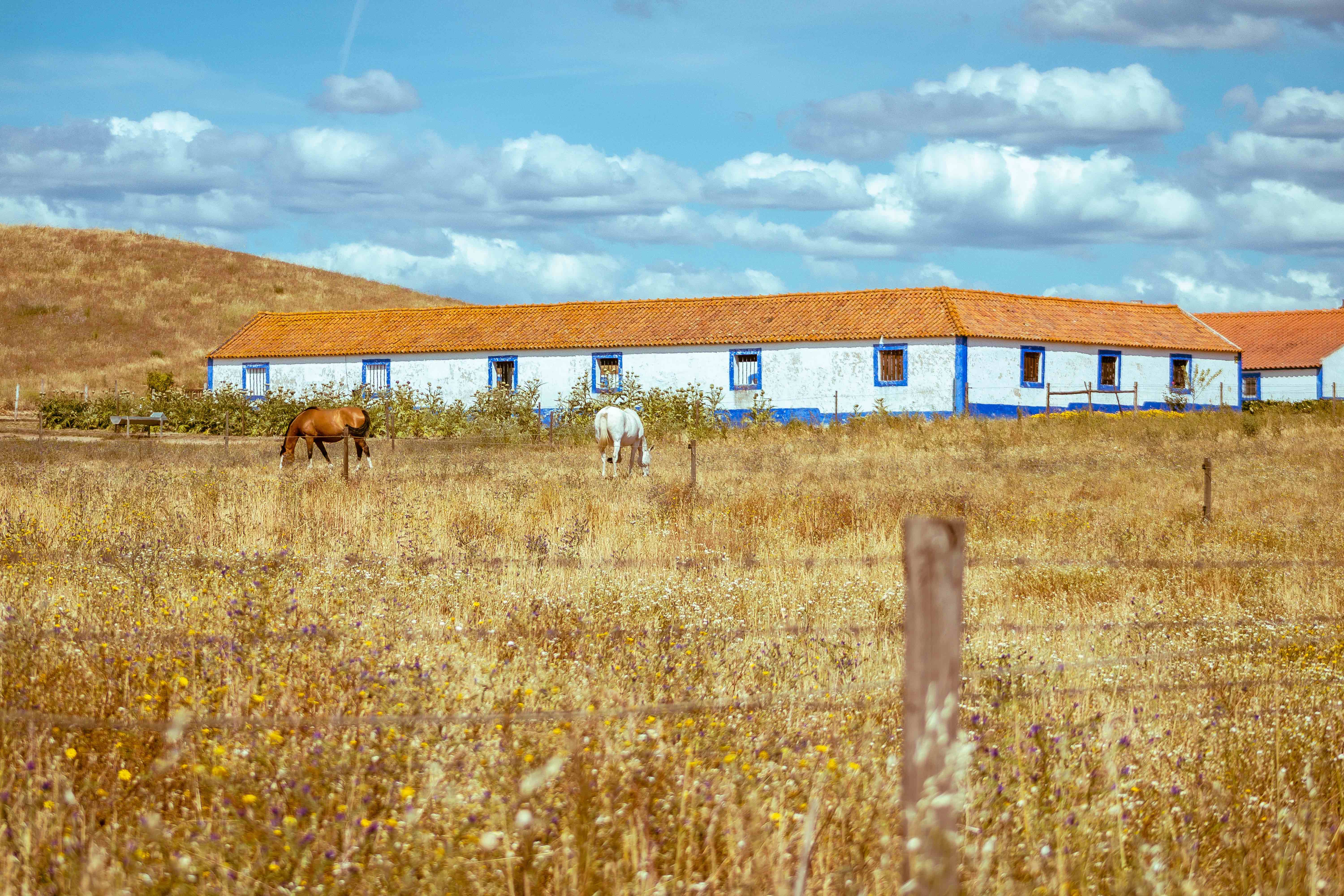 Small Adventure
Stock up on Lisbon-origin Musa craft beers at Botellón, a laundromat + unexpected centre for all things handy; need to throw those well-worn vacation clothes in the wash? Check. Need a few tasty IPAs to share with friends at the beach? Check. Down the road, order some tostas and other assorted picnic items to go at 18 e Piques, enjoy a coffee with the sun on your face while you wait, then head to Praia do Tonel; a beautiful, spacious cove with turquoise water to swim, and a few rocks to climb. Usually pretty quiet thanks to the abseil-esque access point — carry any belongings in a backpack to keep your hands free and make the descent a little easier!
Medium-Sized Adventure
One the most spectacular beaches is also one of the most deceptively hidden; Brejo Largo. My favourite way to get there (that doesn't involve getting the car stuck in sand and having to be rescued by cow farmers on a tractor) is to include it on a late-afternoon walking loop. Park by the water tower in Longueira and walk away from the town, taking the first left turning which will lead you all the way to Praia do Brejo Largo. Either climb down and continue along the beach to its end, or stay on the coastal path until you arrive further south at Praia de Almograve. If it's time for a little aperitivo, there's a beach bar here to whet your whistle. Otherwise begin to walk inland, journeying through the small towns of Almograve and Longueira to reunite with your vehicle. But not before refuelling with a deliciously satisfying, no-frills dinner at Restaurante João. Order amêijoas à bulhão pato (clams in a coriander-garlic-white wine gravy), pão torrada (toasted bread and butter), and a jug of local vinho to wash it all down. If you're with friends, get a cataplana too. This place unexpectedly does a really good chocolate mousse.
Big Adventure!
Let your unhindered imagination run wild as you weave through low-hanging jungle, clamber sandy dunes, and breathe deeply amongst pines and acacia (a friend once told me that the forest and local honey smell exactly the same here). This hike is an all-day adventure (7 hours-ish) along the coastal path from Zambujeira do Mar to Odeceixe. If 18km is a little steep for you, begin at Praia do Carvalhal or Praia da Amália instead. Either way, take your break in Azenha do Mar. Unlike most establishments that seem to add an automatic tax on sea view service, Café Palhinhas will allow you to nestle into a wildflower-covered cliff top terrace, and fill up on fresh seafood with ice cold drinks for a very reasonable price.
Meander
One of the most noticeable attributes of this province is the diversity of the natural landscape. Heading away from the coast, a short drive inland will swiftly reveal to you new trees, new hues, new topography. As you travel deep into wine country, a stunning roadtrip north-east can deliver you to the doorstep of Cortes de Cima, one of my favourite winemakers, in Vidigueira. Enjoy a tasting here, or continue in the direction of Monsaraz, where you can take your pick from a plethora of nationally-appreciated vineyards, some of which still use the ancient Roman method of clay pot fermentation.
With an environ ideal for raising sheep, Alentejo yields an abundance of wool, much of which is literally woven into the region's own style of handmade rugs and blankets. You can pick up some of your own in the time-warp town of Monsaraz itself. Perched on top of a hill and covered with cobblestones, no cars are allowed, so you can wander the magical streets on foot, collecting artisanal textiles and ceramics as you go. Or, a couple of miles south in Reguengos de Monsaraz, you can pop into Fábrica Alentejana de Lanifícios and choose directly from the workshop — Luís might even show you around the olive oil refinery-turned-production space filled with traditional wooden looms!
Mingle
Weekends are for local markets!
Saturdays at Brunheiras offer a smorgasbord of sense stimulators. What can you find here? What can't you find here… From 8 - 3 every 2nd and 4th Saturday of the month, it's busy, it's bustling, and bursting at the seams with everything from succulents, to socks, to saucepans. A great place to sample regional olives oils, honey, cured meats, and cheeses. Come for the buzz, stay for a plate of grilled chicken and a bottle of Sagres amidst a swirling haze of food truck smoke.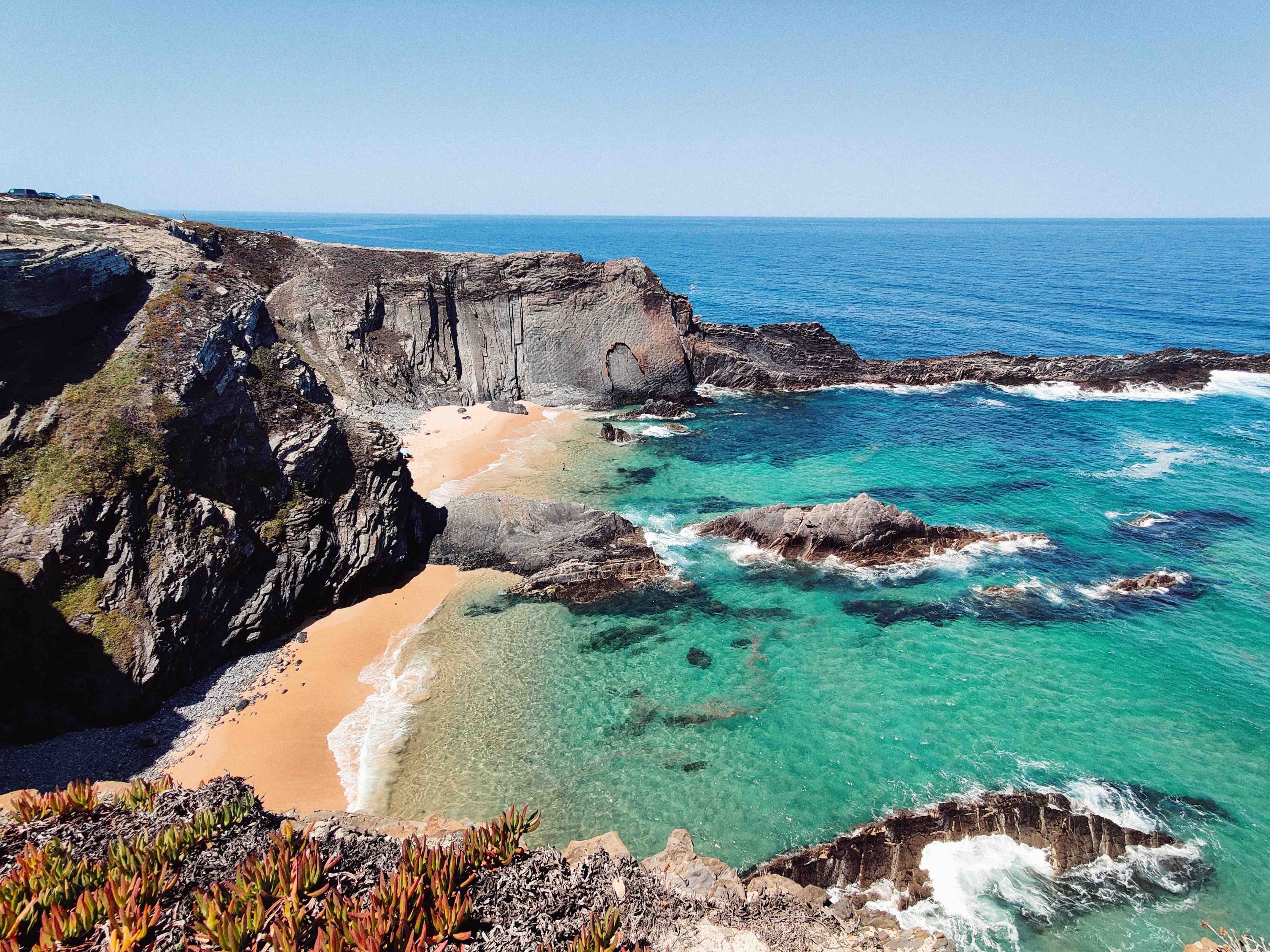 The quieter marketeer can fill their basket with vibrant local veggies, the best pão alentejano, and a few breakfast pastries from the Vila Nova de Milfontes Sunday morning market, held from 9 - 12 on Rua dos Combatentes Portugueses. There's a café that spills right into the marketplace, and most local shoppers will stay for a coffee and chat with whoever shows up.
For dinner, enjoy fine service and finessed dishes at Tasca do Celso. Ask for a table near the fireplace, and try to make a reservation when José is working — he'll hand pick special items from their menu tailored to your desires, suggest suitable accompaniments, ensure you get served Negronis, and generally take expertly subtle care of you. Here is also the place to try migas (a traditional bread-based dish that can tread a fine line between comforting and coma-inducing) and finish your meal with a shot of medronho; both of which are served everywhere but with unpredictable variations in flavour and quality.
For those curious about sustainable options, we find Portuguese Fish Lists to be a helpful guide no matter where you're placing an order.