Who hasn't heard of Bali? If not through friends, you've certainly seen gorgeous pics on Instagram. It can be hard to navigate the overwhelm of guides, photos, reviews, so we've compiled our favorite places where the Fig community loves to hang, eat, or practice together.
Join The Sacred Fig in Bali for our annual 200hr Teacher Training, Feb 1-24, 2023.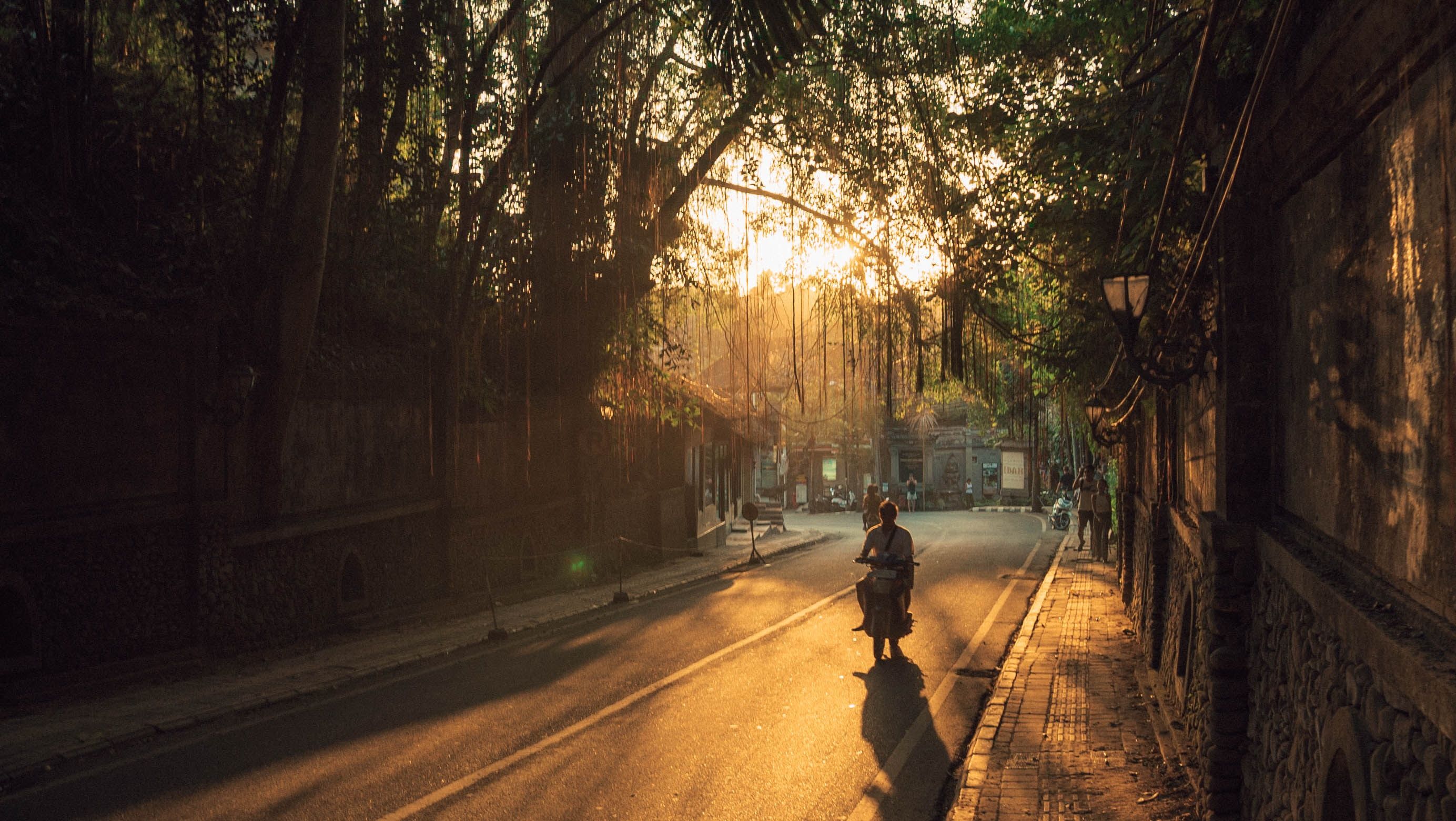 Ubud.
If you've planned on visiting Ubud, the spiritual and cultural heart of Bali, here are a few things you shouldn't miss. As far as yoga is concerned, Ubud will go beyond your expectations, for sure.
Sunday Yoga Church at Radiantly Alive.
Radiantly Alive is an institution in Bali when it comes to yoga. Every year, Radiantly Alive welcomes yoga star Meghan Currie for a very special class — Sunday Yoga Church. This 2-hour class has it all: it's a yoga class, it's a workshop, and it's a fun way to start your Sunday. It fills quickly, so preferably, book a ticket on Radiantly Alive's website.
Ecstatic Dance at The Yoga Barn.
You might have heard of ecstatic dance. If not, here's an article I wrote about it. Ubud hosts one of the most amazing ecstatic dances in the world, and our fave one is the dance at Yoga Barn. There's one on Friday evening and another on Sunday morning. Whichever you choose, you're in for a unique experience! A little tip: wear socks to slide across that dancefloor — and avoid blisters from the crazy dancing!
On your way, stop at the little shop at the corner between Jalan Sandat and Jalan Raya Ubud and order a Jamu, an all-natural Indonesian health tonic that will give you the perfect boost before the dance! Ask for explanations and recommendations, the staff at Jamu Sehati is always happy to help.
All of this exercise will definitely have worked your appetite. Take your scooter and head to the outskirts of the city for our fave restaurant in town, Sage (pictured here). This cute + minimal restaurant is home to amazing vegan cuisine. Ask for the jackfruit tacos and grab one of the home-made cookie bags to go, you won't regret it!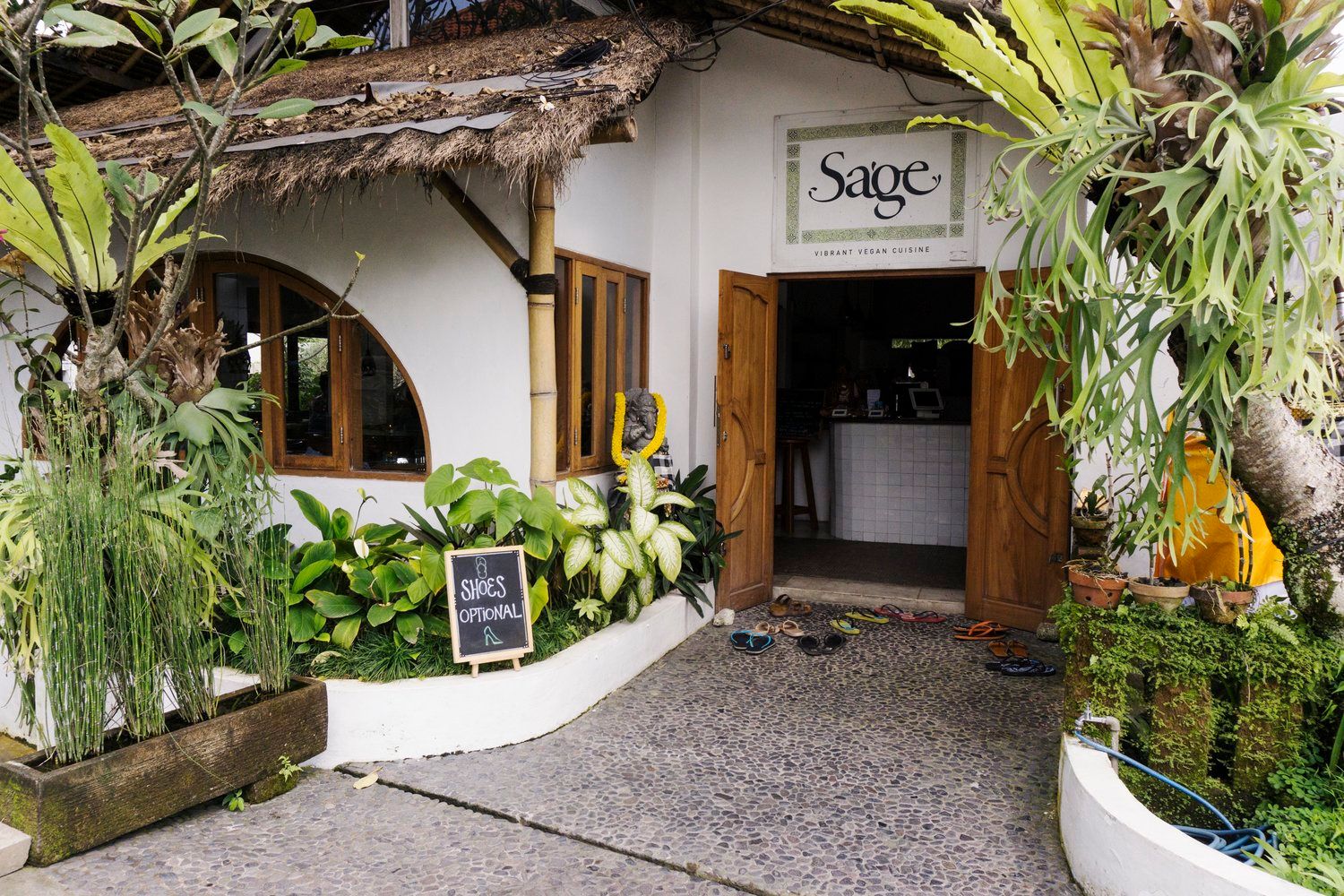 In a carnivore mood? Naughty Nauri's Ribs (Jalan Raya Sanginggan) will for sure satisfy your craving! Order ribs and a dirty martini, nothing else.
You can't go to Bali and not splurge into the massage culture. When you're in Ubud, make sure you pay a visit (or two, or more!) to Nur Salon, on Jalan Hanoman. Despite its central location, this spa is a haven of serenity. You'll find here the best masseurs in town, and the rooms are open-air, so you can slowly drift away lulled by the sounds of geckos and birds chirping. Try to avoid dusk as it's also the mosquitoes' dinner time!
Wake up early and visit Gunung Kawi Sebatu Temple.
Holy water temples are part of the Balinese culture and traditions. People go there for purification and blessings. For visitors, this is a beautiful way to peek into the local spiritual customs. The temple is about 20 minutes away from the city center, but easy to reach either by car or on your own scooter (Google Maps works well). Tirta Empul Tampak Siring is a more well known water temple in the area, but it is now overwhelmed with tourbuses and tourists. This one is a bit more under the radar ~ please respect the local culture. You can find a priest at the entrance who will walk you through the ritual. Make sure you take a change of clothes with you as you'll be immersed in water, and don't visit the temple if you are on your period.
And if waking-up early is no big deal for you, book another morning for a walk at Camphuan Ridge (pictured here). This walk will take you about an hour with stops to take pics and enjoy the serene scenery. Go around 6am to enjoy the sunrise, the fresh air, and have the walk (almost) all to yourself!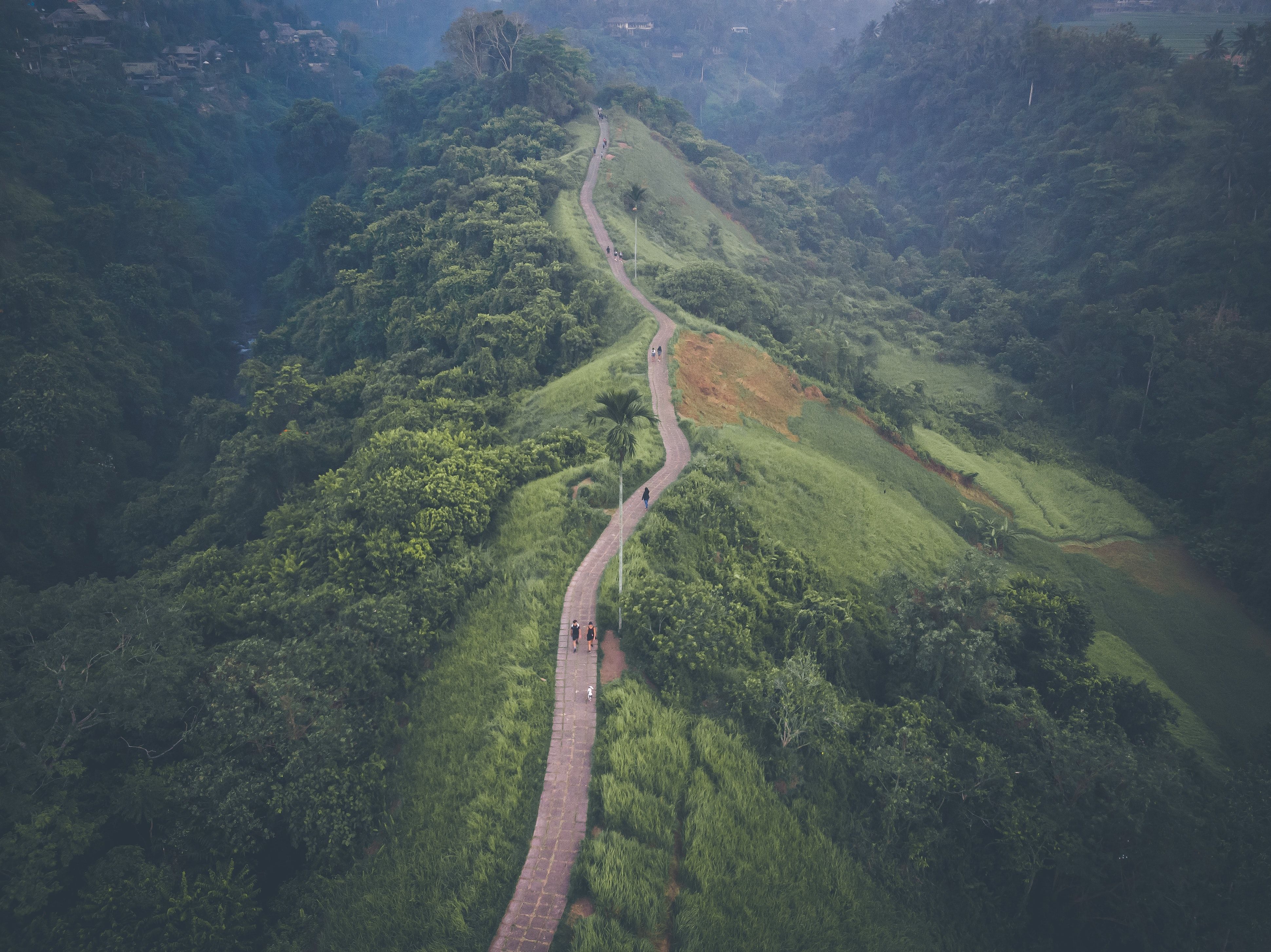 Uluwatu, Seminyak + Canggu.
Once you've had enough jungle, book a driver and head south to Uluwatu, along the coast. Uluwatu is home to some of the best waves, a true surfer paradise. If you're not into surfing, there's still plenty to do. Stay at Mu Boutique Resort. If they're full, stay (or at least eat) at Uluwatu Surf Villas.
Enjoy the beach during the day, and around 5ish, make your way to Single Fin, a bar by the beach, with OK beer but one of the most fabulous sunset in the world. Plus, you get to watch cute surfers ride some insane waves.
Still, have some time on the island and craving some more beach vibes? Canggu & Seminyak will give you exactly that. The neighboring towns offer a wide range of bars, clubs, hip hotels, beach clubs and, of course, restaurants. While in Canggu, make sure to have lunch at The Shady Shack, a super cute house turned into a vegan restaurant with a peaceful and fresh garden (pictured here). It's hard to pick only one dish from their menu, trust us! You can always go for the Pillow Talk gnocchis or the Gyro Jack Burger. And, while you're paying, try to resist the cakes — you won't. 😉
Finish your stay on the island with a four hands massage (obviously!) at Jari Menari in Seminyak. No questions asked, just go, you'll thank us later for it. And if you're scheduled on an early flight, spend your last few hours on the island dancing at the super colorful Hotel Mexicola, a bar in Seminyak. It's our happy place!